Suspension & Steering Systems
K-Frame / Control Arm 101
Control Arms...
---
Stamped Arm, Stub strut for rear pivot:
Applications:
78-90 L-body (Omni, Charger)

81-88 K-based cars, (Daytona, Lebaron, Shadow,etc..)

84-90 S-body (Caravan, Voyager)

Pros:
Easy to find, no modifications to the K-frame required to use them

Replacement bushings are inexpensive

Cons:
Suspension is more prone to bind up preventing the spring/strut from doing their job

The front bushing is a pain in the butt to replace

Upgrades:
Polyurethane bushings to fit these arms are readily available from many aftermarket suppliers. A nice upgrade over worn out rubber ones.
The S-body (Van) A arms can be made to fit the other body styles without much work, if using car bushings the inside hole on the stub strut bushings may need to be enlarged. The S-body arms are boxed underneath for increased stiffness and have a larger diameter shaft on the stub strut.
---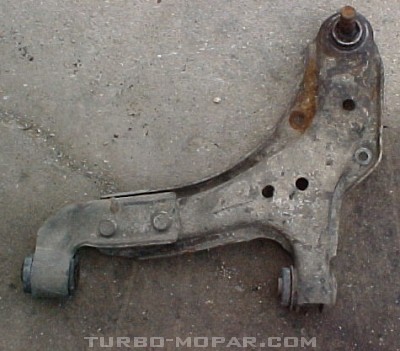 Stamped Arm, two pivot points:
Applications:
89-90 K-based cars[/B](Daytona, Lebaron, Spirit, Shadow etc..)

Pros:
Less likely to bind up (comapred to stub strut design)

Lightest dual pivot arms cast arms (2lbs 4oz lighter than cast arms)

Aftermarket bushings finally available for this application

Cons:
Not as durable as the cast control arms (still tougher than nails, however)

Replacement bushings are the most expensive and hardest to change

Upgrades:
This style was never used on the vans so a beefier alternative was never made, they could be easily boxed however if additional strength is needed. Polyurethane bushings cost less than the factory replacements and are a nice upgrade.
---
Cast Arm, two pivot points:
Applications:
91-95 K based cars (Daytona, Lebaron, Sprit, Shadow, etc..)

Pros:
Durable

Easy to find

Bushings are easy to replace and inexpensive

Smoother Ride

Slight Increase in Caster

Cons:
Heavier (2lbs 4oz heavier each than stamped dual pivot arms)

Move Wheels forward and can cause tire/fender clearance issues on some cars.

Upgrades:
Polyurethane bushings are available for thes control arms from a few major manufacturers and are a decent upgrade over the stock soft rubber bushings.
Note:
These control arms will bolt right in on any 89-90 car without a K-frame swap, but they will move the wheel slightly by ~1/2" and increase positive caster. For some the offset and increased caster is a benefit. For other's the fact that the wheel is moved about 1/2" forward in the wheelwell causes clearance issues with ground effects.
Note:
The cast arm forward offset does vary based on the machining of the cast control arm. If machined in the center of the ball joint boss the offset is minimal. Most control arms are machined on the forward edge of the balljoint boss which moves the wheel forward an additional 3/8"
Ball joint boss machining:
Traced Overlay showing stamped vs cast control arms (C and S are the balljoint centers relative to each other and measured about 10mm on these arms):
Incompatible Applications:
88-93? C body (Dynasty, New Yorker, etc)

The C body cast control arms are similar but INCOMPATIBLE with Kbased cars.
They have a different angle and different sized bushing and must be avoided.
The Dynasty control arms can be identified by having a smaller hole next to the front pivot point (Cbody On Left, Kcar on Right):
K-Frames...
---
more information goes here!
This page has been seen 2,961 times.
Created by

Last updated by